Mix & Match at Nims Boutique from our range of blouses, skirts and dupattas.
get the perfect outfit at nims boutique
NIMS BOUTIQUE JEWELLERY & ACCESSORIES
TROUSSEAU BY NIM. Luxury Gifting Proucts
---
Testimonials
Visited Nims boutique yesterday and I loved the store. Not only is there countless options in all different sizes but the owner was honestly the nicest person, she helped us so much with finding different options. She never seemed irritated when I was trying on different outfits, if anything she was helping us decide and being complimentary. You can see why she is so successful! It's the first time I could try something on in an Indian shop and feel comfortable. Thank you so much, love my outfit!

B Kaur
First time at Nims, had the most amazing experience, found everything I was looking for, feel like I had the personal styling experience, thank you so much for the time you gave me, it was very much appreciated, highly recommended to any one like me who knows what they like but doesn't know want they want, Nim was amazing😊

Z Mangat
Nim's Boutique is an absolute gem of a find! Didn't know what to expect but was absolutely blown away by the amazing outfits, stunning jewellery and above all the incredible team! Came away with 2 outfits that I never would have put together. Thank you so much to the Nim's team for creating two amazing outfits for us and we will definitely be back soon

A Jivan
What can you say... Nim is a pleasure to be around when you are doing your shopping. She takes the time to talk and help guide you and never forces her sales. For all you petite ladies out there her size 6-8 is perfect and fits like a size 4-6 never have I ever brought an outfit without it being bespoke but nims outfits fit perfectly.

Pavandeep Assi
A lovely shop and excellent service. The girls were happy for us to look at outfits properly and left us at our own leisure to browse. Didn't feel pressure to buy anything like you do in other shops but we grabbed a few bargains. I would definitely recommend Nims 😊

KAMELPREET SOHAL
I visited Nims Boutique for the first time today. Nim was so welcoming and genuine. She helped me find a gorgeous outfit for my engagement. I had already been to shops on Soho road but nothing caught my eye or gave me that wow factor. So I was super pleased and relieved to find a gorgeous lengha at Nims at extremely affordable price. Thank you so much Nim. I'm in love with the stunning mix and match outfits 🥰. Thank you Nim x

Mandy Sandhu
I have bought a few jewellery sets and a gorgeous lehenga from Nims Boutique! I love the styles and designs, and have received many compliments, especially for the outfit purchased! I have visited the store once; the member of staff was very helpful and friendly. Nim herself has been very polite and sweet with the social media interaction. Hoping to buy some more outfits from here!!

SON G
Brilliant service.
The BEST collections in Leicester. The service was brilliant, they are so polite and so helpful. Wonderful vibe in the shop. The shop itself isn't that big and they don't have the biggest collection of things BUT the stuff they do have is beautiful. Its good quality and its at a reasonable price. I will definitely be doing alot more shopping here. Reccommend this place to anyone looking for new outfits and jewellrey. Also, they may not having everything in stock at the shop because things sell out quick but the insta and website are good places to check out the full collections. Thanks Nims for my beautiful set and just being lovely people.

J KAUR
I popped into Nims today to shop for a wedding next month & was convinced I would end up buying a lengha. With the help of the friendly & hands on owner I ended up walking out with a Sharara suit! (never worn one, never wanted to but I'm now fully converted!) Plus a skirt & off the shoulder blouse combo. The outfits are one of a kind & the customer service was impeccable! Nim really cannot do enough for you. Would highly recommend this hidden gem on Narborough Road

TEJPAL REHAL
AWARD WINNING BUSINESS | ASIAN CLOTHING BOUTIQUE OF THE YEAR | SMALL BUSINESS OF THE YEAR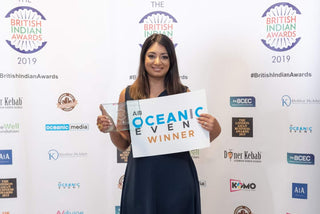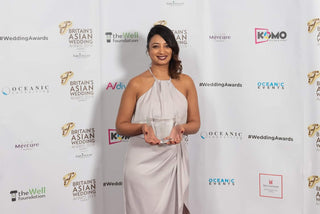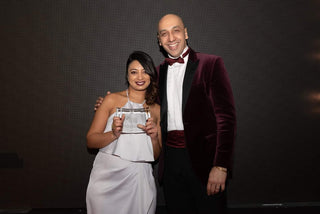 INDIAN LUXURY JEWELLERY, PARTY WEAR & ACCESSORIES FROM NIMS BOUTIQUE
At Nims Boutique we specialise in women's wedding clothing, party wear and jewellery and we have also recently launched a range of gifting products such as Indian Sari bags, trays, money wallets, Bangle boxes and gift boxes for all your asian wedding needs. We have an exclusive range of bridal jewellery and accessories to help you look your best on your big day so please take a look around our website and order online.
Visit our Leicester Boutique to experience our welcoming and calm Indian shopping experience where you can browse our entire collection before trying things on in our luxury changing rooms. For anyone further away our online shop makes it simple to find everything you need for an upcoming party or event including a wide range of Asian and Indian jewellery and women's clothing.
Shop For Indian & Asian Wedding & Party Clothes Online
Our large online selection of Indian and Asian clothing features outfits for any occasion. In our online store, you can shop for Indian suits & outfits, including readymade suits & unstitched suits. Our extensive range of clothing also includes stunning lehengas, sarees & dupattas. Whether you want to buy a full readymade outfit or mix and match individual pieces, we've got what you need. If you're shopping for our Indian & Asian clothes online from the UK, you can choose between a Royal Mail delivery or our Click & Collect service.